Quick Search

ATR-1/306
ESD Cart ATR-1/306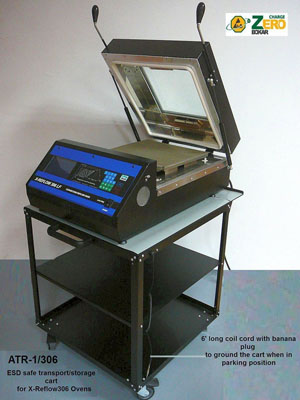 This cart was designed for X-Reflow306 Series Batch Ovens.
It is all metal cart with ESD wheels and ESD rubber mat on the top shelf which is extended to fit the X-Reflow306 ovens.
The middle shelve is sufficiently high to fit X306 Fume extract on the bottom shelve.
When not used to house the X-Reflow306 Oven, the cart can be used to prepare and transport other equipment, parts etc. to the assembly area. Makes a convenient mobile work surface for sorting parts, quick product repair, packing etc.
Features:
ESD casters (strong and do not leaving marks on the floor)
A handle on the front to pull or push the cart
ESD rubber mat on the surface of the top shelve
A middle shelve to store extra accessories and equipment needed when using reflow ovens (e.g. data logger, thermocouples etc.)
Construction:
Light weight, epoxy powder coated steel
ESD Safe throughout
On the upper part of the right/front leg the cart has a 10mm snap for grounding the cart when parked. (Six feet grounding coiled cord terminated with a banana plug and an alligator clip is included with the cart).
Technical specifications:
Dimensions
24.4" L x 31.1" W x 27.6" H 
(620 L x 790 W x 700 H mm)
Load capacity
400 lb.
(250 Kg)
ATR-MS Middle shelf for ATR/306 and ATR-1 Cards

Note: The shelf will fit all revisions of ATR-1 Carts. On the carts build as a REV2 the mounting holes for the shelf are already made in the legs.

For Rev 0 and Rev1 carts the customer needs to drill the holes in the legs to install this shelf

If anyone has a question, please e-mail czes@bomir.com or call 570-842-4725
Part Number
Description
Price
USD
A-401 Set
Chairs and Carts ESD Properties Verification Checker.

| | | |
| --- | --- | --- |
| Qty | 1 - 19 | 20 + |
| Price | $499.00 | $449.90 |

ATR-1
ESD Utility Cart. Conductive, no marking wheels. Top shelf finish: ESD, two layer non burn rubber mat. Static discharge to the ESD floor through the wheels is guaranteed for each unit. All metal. Can't be damaged by molten solder or high temperatures.
<...more info

| | | |
| --- | --- | --- |
| Qty | 1 - 19 | 20 + |
| Price | $579.90 | $539.90 |

ATR-1/306
ESD Cart for X-Reflow 306 Ovens. Conductive, no marking wheels. Top shelf finish: ESD, two layer non burn rubber mat. Extended top shelf with an overhang at the back. Middle shelf to accomodate oven accessories, profilers etc. Grounding wire included.
ATR-1M
ESD Utility Cart. Conductive, no marking wheels. Top shelf finish: ESD, two layer non burn rubber mat. Model ATR-1M has an extra middle shelf. Otherwise, same performance as ATR-1.
<...more info

| | | |
| --- | --- | --- |
| Qty | 1 - 19 | 20 + |
| Price | $589.90 | $549.90 |

ATR-1R
ESD Safe Utility Cart. The largest available from the ZeroCharge brand. Top shelf finish: Anti-static two layer non burn rubber mat. Same performance as ATR-1
<...more info

| | | |
| --- | --- | --- |
| Qty | 1 - 19 | 20 + |
| Price | $639.90 | $609.90 |

ATR-MS
Middle shelf for ATR/306 and ATR-1 Carts
<...more info