Quick Search

AI-10
AI-10 Personal Ionizer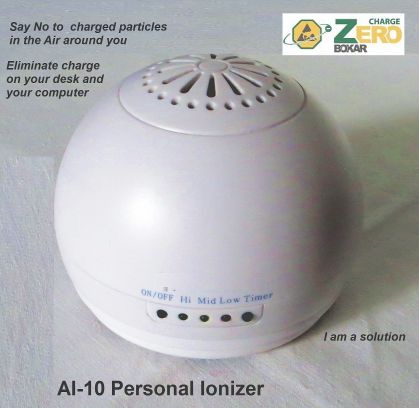 The Personal Ionizer is designed to provide low cost alternative to larger industrial units. Supplied with a graph presenting decay time from 1000V to 100V in relative humidity of 50%, to show its real, good performance. It is much quieter than commercial units and almost as effective with the price tag almost 5 times lower.
Applications:
Preventing static (and what goes with it-dust) build-up on computer and laptop screens when placed on the desk in proximity of a computer.
Reducing static on the electronics service benches without excessive noice.
Eliminating static generated on the work desk by friction between the paper sheets etc.
Greatly diminishing static electricity on human body generated by walking on non-ESD floors, carpets etc. This applies to the offices of all sorts.
Often used in quantity of few units for static reduction in larger rooms.
Outside of work: In home offices (Quiet and efficient), living rooms, bedrooms. Reduction of positive ions helps in many ways to be rested and on higher alert.
Part Number
Description
Price
USD
AI-10
Personal Ionizer. Eliminates the "bad" positive ions. Does an excellent job limiting dust collection on your personal computer screen and keyboard or the laptop
<...more info