Quick Search

XIL-2 Fiber Guided
| | |
| --- | --- |
| | XIL-2 High Intensity, long life Illumination System |
The system was designed for XK-Series tool holders to provide focused illumination at the place of rework. Properly illuminated PCB helps greatly to position a component, inspect paste deposition and improve quality of the solder joints after rework.
XIL-2 fits all X-KAR XK-Series Tool Holders manufactured after Jan 2004.
It does not occupy valuable bench space and can be installed in few minutes.
Features:
Regulated distance from the board
Full rotation, angle and forward-back adjustment of the illuminating heads.
High intensity white soft light
Long life (min 50 000 hours)
System includes:
Arms with illumination - arms mount on XK-Series tool holders
Technical Specifications:
| | |
| --- | --- |
| Input Voltage | 110-120, 220-240V AC |
| Power consumption | Max. 2 VA |
| Weight | 1.1 lbs. (0,5 kg) |
| System dimensions | 15.7"x5.9"x7.9" (400 x 150 x 200 mm) |
| Packaged weight | 1,5 lbs. (0,7 kg) |
Optional equipments:
Power Supply X-AC1 for 115V or X-AC12 for 220-240V. Needed when you have Pre-heater Based Rework System manufactured before October 2005).
XCC-2L - Cord connecting XIL-2 with Pre-heater Based Rework System SMT-SerwiCE or Preheaters X-1000 (only for systems manufactured after October 2005).
Application: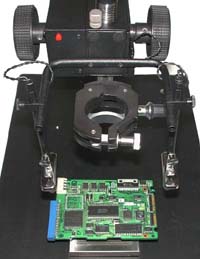 XIL-2 attached to XK-3AL
To enhance efficiency and speed during placement or replacement of the components using X-KAR Rework Equipment incorporating XK Holders.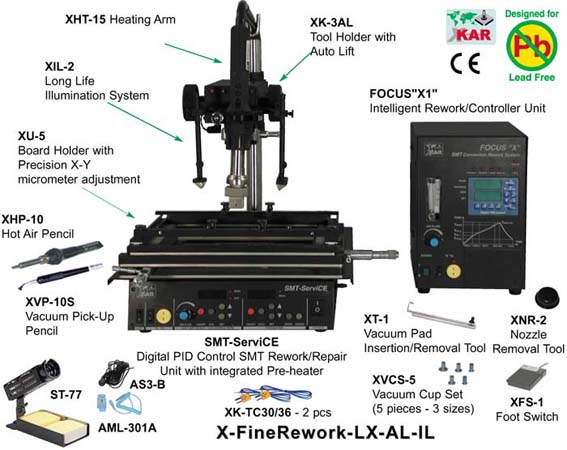 Part Number
Description
Price
USD
Illumination System
XIL-2
Long Life, White light Illumination System