Quick Search

FOCUS "+"
FOCUS A+ Programmable SMT Rework/Repair Unit / Rework Systems Controller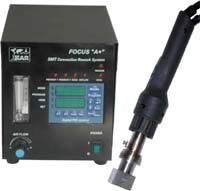 FOCUS A+ - Basic Unit with integral XHT-12 Hot Air Tool
XTH-1 - Tool Holder for XHT Series
XQF - Quick Connect for easy attachment of nozzles
XVCS-5 - Vacuum Cup Set (5 vacuum cups, 3 sizes)
XT-1 - Vacuum Cup placement/removal tool
XNR-2 - Hot Nozzle Handling Cup
FOCUS A+, the newest system in the industry, offers total process control and best performance among convection Rework/Repair Tools. As the only system in its class can pre-program both top and bottom heating in individual zones. It is simple and easy to use. It has five time/temperature zones to accommodate lead-free solder profiling requirements (four heating and one cooling zone). When used in conjunction with X-1001 Series Pre-hearers or SMT-ServiCE Rework units offers 10-zone control 5 top and 5-bottom temperature settings during the rework process. For someone who really wants to bring the rework to a science, the unit has an extra mode to work in 10 zones (control the temperature rise in each of the 5 zones and maintain the reached temperature for preprogrammed period of time).
Features:
Removes and replace discrete, SOIC, PLCC and QFP components and other SMD components
Closed-loop, variable temperature control
Fully grounded and static-safe system
Optical isolation with zero voltage switching
Over 50 nozzles available
| | |
| --- | --- |
|   | Technical Specifications: |
Input Voltages
110-120, 220-240V AC
Power Consumption 
500 W
Fuse
8A for 110-120V or 5A for 220-240V
Slow-Blow 5mm x 20mm
Heater
Resistive, 450W line voltage
Heater Control
PID, Closed-Loop Thermocouple sensor feedback
Air Source
High efficiency diaphragm pump
Air Flow 
Variable, 3 - 20 l/min, air flow controlled by the valve located on the front panel
Vacuum source
 Diaphragm pump
Vacuum
 200mmHg (8" Hg)
Temperature
70 ºC - 450 ºC
(158 ºF - 842 ºF)
Weight
10kg (22 lbs)
System dimensions
150mm x 220mm x 220mm
(5.9" x 8.7" x 8.7")
Packaged weight
12kg (26 lbs)
XN Series - Focus Series Nozzles

XCB-1R - Cord connecting FOCUS A+ with Preheater Based Rework System SMT-SerwiCE or Preheaters X-1000.